For those of you who aren't familiar with my artwork, the little critter on the chainguard is a "womberscootch", which is a sort of small dog-demon-monster, my little art mascot.
Next, let me regale you with the sad tale of the springer fork. The story goes like this: the steerer tube was too short, I was very sad, and came incredibly close to giving up on this project. Not only was my bike still forkless, but I was out a pretty penny and my funds were dwindling. I decided to try the Recyclery one last time, but they didn't have anything new. I was starting to wonder if all my options had truly dried up. On my way home from The Recyclery, I remembered there was one eastside bike shop I had never visited. It was a little shop on SE Belmont. I walked in, tired and disappointed, and asked the fellow behind the counter if they had any forks for sale. He told me that they only had a few and invited me to the work area to look at their selection. Indeed, there were only a few forks hanging from a beam. The usual too-narrow middleweight vintage forks, a couple of mountain bike forks with big shocks attached, and...one vintage style chrome balloon tire cruiser fork. It was perfect. The steerer tube was plenty long, it was brand new, and it was a nice style. The guy told me it had been sitting there for at least five years. And the price was right! $15.00. I took it home and lo and behold, it worked perfectly! What a huge relief. I felt like I had given birth to a baby elephant.
So now my bike is complete and I have ridden it several times this week! I'm still in need of a better seat and fenders, but otherwise it's together and quite pretty and very fun to ride. It turns like a herd of buffalo and is definitely a workout to haul up hills, but I love it! Once I get the little cosmetic things sorted out, I'll post some full length photos.
I hate to say it, but I think that fixing up old bikes might be addictive - I'm already wondering what crazy project I might undertake next. I learned so much from this experience, and I want to keep learning more! Besides, I have fenders and a springer fork that still need to be used.
So, that's where I'm at for now. I leave you with these groovy jerseys from
Team Estrogen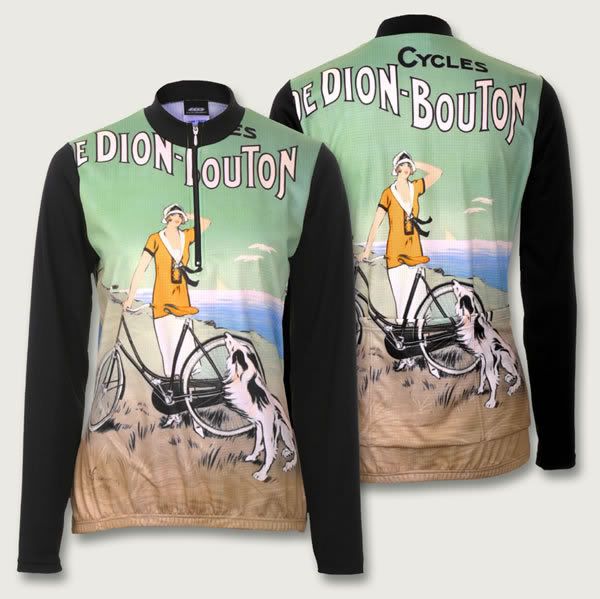 P.S. I nearly forgot! I was browsing Rollfast stuff on ebay, and found a vintage magazine ad for Rollfast's 1959 bike assortment. And there was my bike. A 1959 Rollfast middleweight, Model 766. It originally had 1.75" tires. Oh, how I wish I would have seen this ad a few weeks ago! But it's okay, I really dig the giant white balloon tires, I'd be sad to see them go.
It's time for a big update! First, my bike is up and running, but cosmetically not quite ready for a public introduction. I will give you this sneak preview for the time being:
Current Mood:

accomplished